CAH (Centres d'Accueil Héritage)
33 Hahn Place, Suite 104
Toronto, Ontario M5A 4G2
Telephone: (416) 365-3350, Facsimile: (416) 365-1533
info@caheritage.org
Open Monday to Friday, from 8:30 a.m. to 4:30 p.m. Visit Our team page for our Direction team's contacts, Programs and Services extensions, and list of team members.
HOW TO REACH CAH

By TTC
From CASTLE FRANK Subway Station (Bloor Line): Take Bus # 65 (Parliament) to the last stop (Berkeley and Esplanade).
From UNION Subway Station: Take Bus # 72 (Pape Station) at the southwest corner of the intersection of Bay Street and Front Street West. Get off at Berkeley and Esplanade.
From KING Subway Station (Yonge Line): Take the King Streetcar, Eastbound. Get off at Ontario Street. Walk eastbound to the first street, Berkeley. Turn right onto Berkeley, walking south. Cross Front Street and continue walking to Esplanade.
By car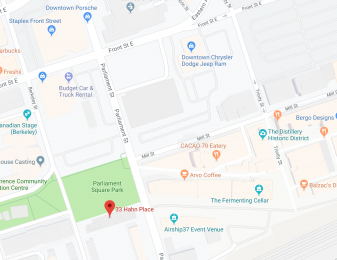 CAH
33, Hahn Place, Toronto
We are located just west of The Distillery District. You can find parking spots in nearby public parking lots (including one on Berkeley Street).