ATTENTION: Please note that the services that were cancelled due to the pandemic are slowly coming back to life. Contact us to find out the current status of the service you are interested in.
CAH's Adult Day Program (ADP Oshawa) offers physical and cognitive activation and socialization programming in French, three days a week, to seniors in Durham Region. Professional recreationists ensure a welcoming and safe environment in which clients can enjoy their day. (Note that we also offer Adult Day Program in Toronto, five days a week.)
This program, funded by the Central East LHIN (Ministry of Health), is suitable for people aged 55+ experiencing a decline in physical and/or cognitive autonomy. Eligibility for the ADP is based on a standardized assessment of functional capacity.
CAH's ADP provides much-needed respite
for caregivers caring for their loved ones!

Who needs ADP?
The ADP was created to provide respite for caregivers and help seniors spend a fun day engaging in physical and cognitive activities in good company. Active engagement can often prolong autonomy and prevent premature referral to long term care. Those wishing to participate in the ADP in Oshawa meet with a case manager to assess their needs. Call 905-914-0126 for more information.
A break for senior's caregivers!  
The ADP provides a valuable respite for families and caregivers caring for their loved ones.
Cost of Adult Day Program
The ADP costs $16 per day. This includes a hot meal and transport.
Note that subsidies are available, upon proof of income.
A typical day at the ADP 
The typical ADP day runs from 9:30 a.m. to 2:30 p.m. The activities vary daily and are adapted according to the abilities of each client.
EXAMPLE OF ACTIVITIES
Physical exercises to develop flexibility, balance, tone, endurance (CAH recreationists are certified by the Canadian Centre for Activity and Aging of Western University).
Cognitive activation individually and in groups through music therapy, art therapy and appropriate cognitive exercises (some based on the Montessori Method adapted for seniors, others validated by York University's Glendon College).
Good to know
Programming is designed to meet the specific needs of each individual and encourage group interaction and stimulation.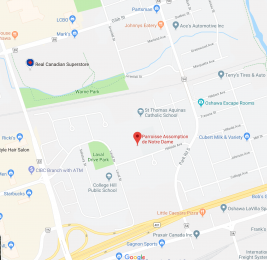 ADP in Oshawa
384 Hillside Avenue, Oshawa (parking and entrance at the back of Paroisse Assomption de Notre Dame building)
(905) 914-0126
Offered on Tuesdays, Wednesdays and Thursdays, from 9:30 a.m. to 2:30 p.m.
Round trip van transportation available for ADP Oshawa clients.
Click here to learn more about the Adult Day Program in Toronto.