In the late 1970s, a group of Toronto residents took steps to obtain health and social services in French for members of the Francophone community living in Toronto who are elderly or have disabilities. Since then, we have continued to evolve according to the needs of the community.
We now have 40 years of experience and have been accredited by Accreditation Canada since 2018. We encourage you to visit our Overview of CAH Services page.
Our clients include:
• Elderly and adults with disabilities who need help and encouragement to make the most of their physical, cognitive and social abilities and to enable them to enjoy the best possible quality of life;
• Adults 55 years of age and over who want to meet other French-speakers to chat, learn and relax in a warm and friendly atmosphere;
• Individuals living with HIV/AIDS who need care and services to continue playing an active part in community life and to feel supported at difficult times; and
• Relatives, friends and loved ones looking for information, support and respite in order to continue looking after a vulnerable person or someone coping with a loss of independence.
A new partnership agreement between CAH and CFGT!
On October 7, 2019, CAH signed a formal partnership agreement with Centre francophone du Grand Toronto.
This agreement is the result of the desire of the members, the CFGT and CAH, to formalize the historical collaboration that exists between them in order to foster opportunities for joint activities, projects and programs for Francophone seniors in the Greater Toronto Area.
The two Francophone partner organizations agree on the importance of contributing to the well-being of seniors along the continuum of care by strengthening existing prevention and quality of life services.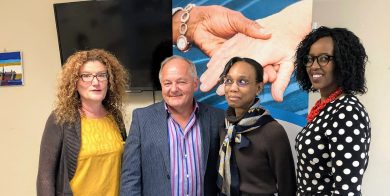 Were present (from left to right): Barbara Ceccarelli (Executive Director of CAH), Jean-Luc Bernard (Chairman of the CFGT Board), Colette Raphaël (Chairman of the CAH Board), and Florence Ngenzebuhoro (Executive Director of the CFGT)