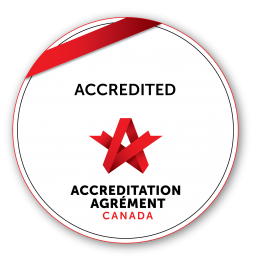 We are very proud to have been accredited by Accreditation Canada in time for our 40th anniversary!
CAH has met the requirements of the Qmentum accreditation program and has demonstrated a commitment to quality improvement. Our organization will be accredited until June 2022.
In 2015, CAH began the first phase of this independent evaluation process, based on standards established according to the best practices of the community health world. Throughout 2018, we continued the demanding exercise of the second phase of this approach, to make good progress in establishing a solid and sustainable quality culture and a client-focused service offering.
This journey has allowed us to identify all the important elements necessary to prepare for a long journey. Following our accreditation, we have received with great interest the constructive comments of Accreditation Canada stakeholders in their report, which we are proud to share with you. CLICK HERE to view the full report submitted (in French only) by Accreditation Canada in June 2018.
Our CAH suitcase is now well filled. The preparatory phase allowed us to explore several components of our organization and create new tools and procedures to support our future growth, and we are now better able to address the ever-changing needs of our clients.
It is with renewed enthusiasm that the entire CAH team will continue this wonderful journey with you, to establish a continuum of quality services and a culture of continuous improvement, for the greater benefit of our clients.